LifeCell All-In-One Skin-Tightening Treatment 2.54 oz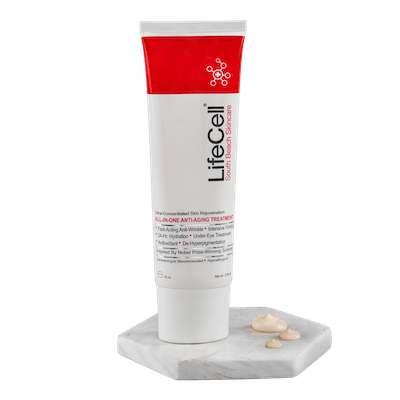 Dermatologist Tested Anti-Aging Treatment Proven To Reduce The Look of Wrinkles
Why your skin needs an anti-aging cream:
As we age our skin begins to lose its once youthful appearance. Collagen begins to deplete and in turn you're left with wrinkles and fine lines. Loss of firmness is also an issue. Although we can't control the aging­clock, we can control the way our skin looks!
What it is:
LifeCell is a hydrating and lightweight all­ in ­one anti-­aging treatment designed to reduce the appearance of wrinkles. The product is packed with some of the most renowned anti-aging ingredients on the market.
DMAE, Retinol, Hyaluronic Acid and Vitamin C have received nothing but rave reviews by both consumers and skin care professionals. We made sure to include all four of these ingredients in our anti­aging essential.
The anti­aging formulation of LifeCell delivers results you can instantly see within seconds of application. With help from micro­fillers and the incorporation of light­reflecting microtechnology to smooth and virtually eliminate the look of fine lines right before your eyes, while also mitigating the look of skin discolourations.
Fragrance & Paraben Free.
Hypoallergenic.
Dermatologist tested. Suitable for all skin types.
Shelf Life:
2 Years Unopened/With Seal. 1 Year Opened/Seal Removed. Keep in a dry and cool place, and out of sunlight.
Dermatologist Recommended. Hypoallergenic. Non-Comedogenic
Ingredients:
Water (Aqua), C12-15 Alkyl Benzoate, Avena Sativa (Oat) Kernel Extract, Butyrospermum Parkii (Shea Butter) Fruit, Butyrospermum Parkii (Shea Butter), Cetearyl Alcohol (Plant Derived), Silicon Oxide, Titanium Dioxide, Glycerin (Plant Derived), Dimethylethanolamine, Cetearyl Glucoside, Sclerotium Gum, Iron Oxides, Thioctic Acid (a-Lipoic Acid), Tetrahydrobisdemethoxydiferuloylmethane, Spilanthes Acmella Flower Extract, Retinol (Vitamin A), Malus Domestica Fruit Cell Culture Extract, Magnesium Ascorbyl Phosphate (Stabilized Vitamin C), Glycine Soja (Soybean) Oil, Cupric Carbonate Hydroxide (Mala'Kite), Caprylic/Capric Triglyceride (Plant Derived), Hydroxyethyl Acrylate/Sodium Acryloyldimethyl Taurate Copolymer, Phenoxyethanol (Preservative), Tribehenin, Sodium Acryloylimethyltaurate Copolymer, Ceramide 2, Ethylhexylglycerin (Plant Derived Preservative), Palmitoyl Oligopeptide, Palmitoyl Tetrapeptide-3, Retinyl Palmitate (Vitamin A Palmitate), PEG-10 Rapeseed Sterol, Hesperidin Methyl Chalcone, Steareth-20 (Plant Derived), Palmitoyl Tripeptide-5, Acetyl Hexapeptide-3, Dipeptide-2, Cholecalciferol (Vitamin D3), Ubiquinone (Coenzyme Q10), Tocopherol (Antioxidant), Tocopheryl Acetate (Vitamin E Acetate), Sodium Hyaluronate, Beta Carotene, Ascorbyl Palmitate (Vitamin C Palmitate)
Beatrix
"I couldn't be more confident at 55"
Carrie
"I left wrinkled and tired skin behind"
Hyaluronic Acid
Anti Aging Secrets from LifeCell
Jane
"It help me regain my youth!"
Retinol
Retinol Active Ingredient in LifeCell Cream for Clear Youthful Skin
Taylor
"I never go on set without LifeCell"
How to use:
Step One
Begin by thoroughly cleansing the skin and gently patting dry.
Step Two
Using only a dime-sized amount, gently apply LifeCell on the targeted areas of the face: eyes, forehead, cheeks, chin and neck.
Step Three
Using dabbing motions, lightly spread the product to cover skin in a thin layer.
Step Four
Use both morning and evening.
Reviews:
Lifecell Verified Customer
I absolutely am just in love with this anti-aging cream. It seemed a bit pricey at first, but it's honestly a purchase worth every penny. My tube of LifeCell cream came in just 2 days, and I've been using it for about 2 weeks now and I can definitely see a difference. My skin looks better than it has in 20 years, and the best part is I still have so much cream left, too!
Lifecell Verified Customer
My favorite part about this wrinkle cream is that it replaces so many other expensive creams and serums you would normally have to buy to get these kinds of results. My pocket, and my skin both thank you LifeCell!
I have to say, I didn't expect much out of this product, but it delivered results in the blink of an eye. LifeCell is a very fitting name because within just a few days it seemed to bring "life" to my skin cells! I've only been using lifecell for about a week and a half but I can already see a more youthful glow to my skin.
Since I began using the LifeCell anti aging cream less than 3 weeks ago, I've already noticed the crow's feet around my eyes are beginning to fade away. I'm ecstatic, because I've been through so many anti-aging products and none have worked like this has. I would strongly recommend giving Lifecell a shot if you're on the fence.
Lifecell Verified Customer
The deep wrinkles around my forehead were really starting to get on my nerves and I searched endlessly for a product that could help. Not just temporarily, but actually one that would make a difference. I found Lifecell after skimming review sites on the internet and I'm so happy I stumbled on the site. It's a very, very powerful blend of ingredients, not something I would recommend to young women. For a senior woman like myself, it is perfect. Lifecell will probably be the last wrinkle cream I'll ever use.
Lifecell Verified Customer
This product is all I have to thank for restoring my young looking skin again. I can't express how much confidence and happiness the LifeCell wrinkle treatment has given me.
Works great around the eye area! Usually most creams irritate my skin but not this one! You can even use it around your neck to get rid of that turkey gobble I've dreaded for years. I owe Lifecell a big one!
Lifecell Verified Customer
I've seen it and tried it all, and after 2 years of trying to find another product like Lifecell, I can't. In all seriousness it is probably the best wrinkle cream on the market.
Lifecell Verified Customer
I can't get enough of this stuff. My fine lines are practically gone after only a few days of use. Never thought I'd say this but this product is a miracle wrinkle remover.
Lifecell Verified Customer
Lifecell is a very good wrinkle cream. I use it as a primer though as well, it makes sure my makeup stays in place throughout the day. I use it about 2 times and haven't needed another product since.
Lifecell Verified Customer
Please note that I'm giving this product a 3 only because I haven't gotten it yet, but after seeing the reviews I am hopeful. The comment I want to make is that I was floored by the "How to Use" part of the site. Most products say "use a generous amount" in order for you to use it up fast. This one says "use a dime-sized amount." This alone shows promise,, along with the great reviews. I can't wait to receive it and will update. Thanks for reading.
Lifecell Verified Customer
The cream made my skin radiant and soft. It also made the lines on my face less visible. Im happy that i made this purchase and I will continiue to use this product.
Lifecell Verified Customer
My wife told me about this cream, I usually dont use any product on my face but since I am getting older I decided to give it a try. WOW. I see the changes overtime I was very impressed.
Lifecell Verified Customer
Ive been searching for a very long time, for a product that would actually work. I wanted to see quick results and with this that is exactly what i got.
Ingredients:
Water (Aqua), C12-15 Alkyl Benzoate, Avena Sativa (Oat) Kernel Extract, Butyrospermum Parkii (Shea Butter) Fruit, Butyrospermum Parkii (Shea Butter), Cetearyl Alcohol (Plant Derived), Silicon Oxide, Titanium Dioxide, Glycerin (Plant Derived), Dimethylethanolamine, Cetearyl Glucoside, Sclerotium Gum, Iron Oxides, Thioctic Acid (a-Lipoic Acid), Tetrahydrobisdemethoxydiferuloylmethane, Spilanthes Acmella Flower Extract, Retinol (Vitamin A), Malus Domestica Fruit Cell Culture Extract, Magnesium Ascorbyl Phosphate (Stabilized Vitamin C), Glycine Soja (Soybean) Oil, Cupric Carbonate Hydroxide (Mala'Kite), Caprylic/Capric Triglyceride (Plant Derived), Hydroxyethyl Acrylate/Sodium Acryloyldimethyl Taurate Copolymer, Phenoxyethanol (Preservative), Tribehenin, Sodium Acryloylimethyltaurate Copolymer, Ceramide 2, Ethylhexylglycerin (Plant Derived Preservative), Palmitoyl Oligopeptide, Palmitoyl Tetrapeptide-3, Retinyl Palmitate (Vitamin A Palmitate), PEG-10 Rapeseed Sterol, Hesperidin Methyl Chalcone, Steareth-20 (Plant Derived), Palmitoyl Tripeptide-5, Acetyl Hexapeptide-3, Dipeptide-2, Cholecalciferol (Vitamin D3), Ubiquinone (Coenzyme Q10), Tocopherol (Antioxidant), Tocopheryl Acetate (Vitamin E Acetate), Sodium Hyaluronate, Beta Carotene, Ascorbyl Palmitate (Vitamin C Palmitate)